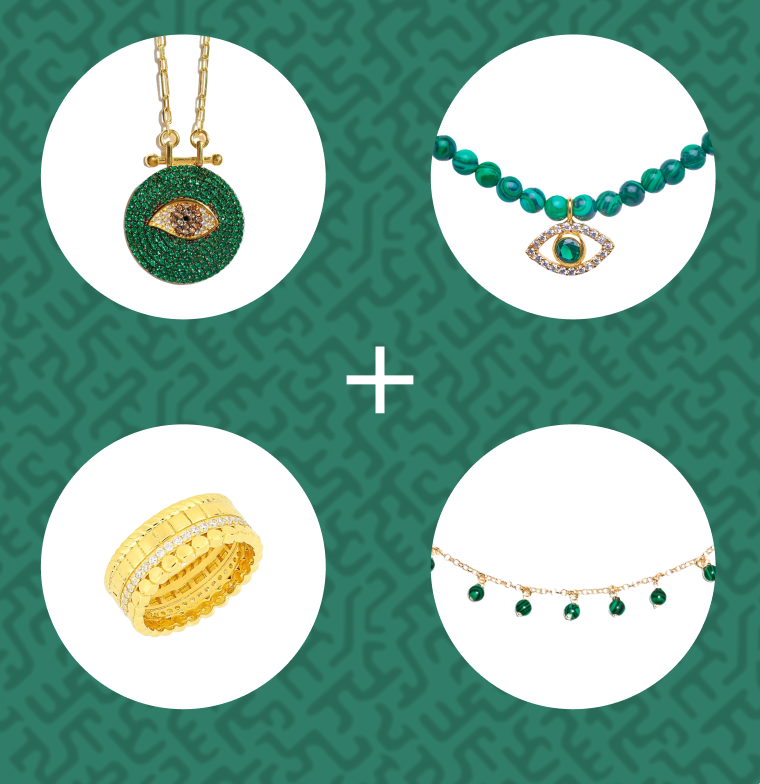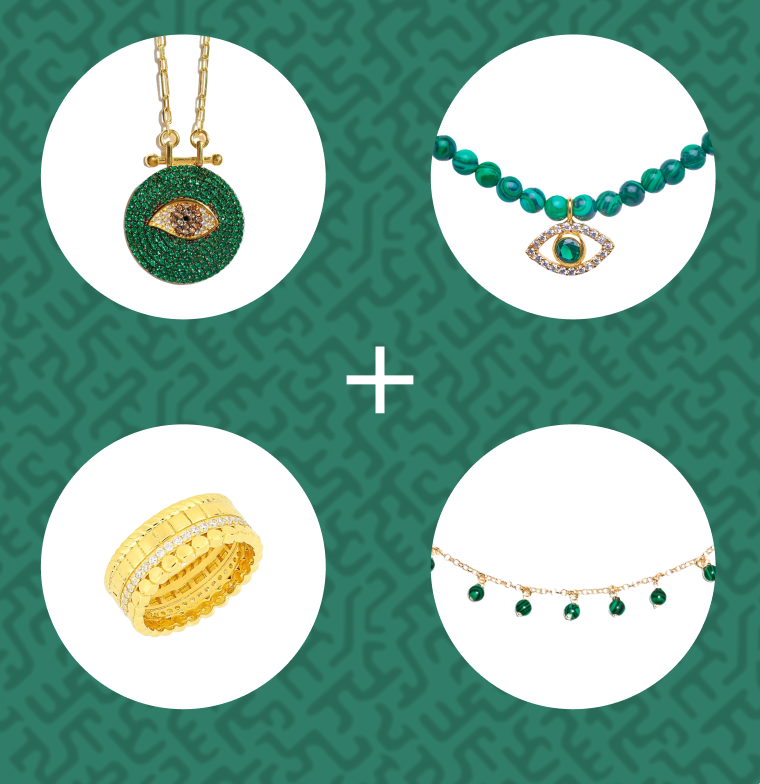 Green Goddess - FULL BUNDLE
Introducing the "Green Goddess - FULL BUNDLE"!
Elevate your style to its fullest expression with our Green Goddess Full Bundle. This comprehensive collection includes four exquisite pieces that seamlessly capture the essence of natural beauty and elegance. In this exclusive bundle, you'll find:
Product One: Malachite Beaded Eye Necklace
Product One Description: Experience the mesmerizing charm of our Malachite Beaded Eye Necklace, a captivating addition to your collection. Crafted with malachite beads, this necklace features a captivating green cz diamond at its heart, accentuated by the brilliance of clear cz stones that encircle it. The result is a harmonious blend of nature's beauty and artistic craftsmanship.
Product Two: "MALLORCA" Sterling Silver Gold Plated Eye Necklace in Green
Product Two Description: Indulge in the allure of our "MALLORCA" eye necklace, a masterpiece designed to accentuate your beauty. This exquisite piece showcases an eye-shaped, round medallion pendant adorned with enchanting green zirconia stones. Its 20-inch chain adds a touch of sophistication and versatility, perfect for layering with other necklaces. Handcrafted from 925 sterling silver and luxuriously gold-plated, this necklace exudes timeless elegance.
Product Three: Silver Gold Plated Short Malachite Bead Drops Necklace
Elevate your neckwear game with our exquisite Silver Gold Plated Short Malachite Bead Drops Necklace. This newly added necklace combines the opulence of gold-plated silver with the natural allure of malachite bead drops, creating a unique and elegant piece. With an adjustable length of 14-16 inches, it offers versatility and style, making it a perfect addition to your collection.
Product Four: Silver 18K Gold Plated Multiband Ring
Product Four Description: Elevate your hand's grace with our Silver 18K Gold Plated Multiband Ring. This exquisite piece is a testament to artistry, featuring the illusion of four different bands elegantly joined into one. Handcrafted from 18k gold-plated silver and adorned with sparkling cz diamonds, this ring brings sophistication and versatility to your jewelry collection.
Save 25%: With the Green Goddess - FULL BUNDLE, you not only elevate your style to new heights but also enjoy an exclusive 25% discount on these exceptional pieces, making this bundle an irresistible offer.
Enhance your style effortlessly with this comprehensive bundle. These pieces are not just accessories; they are expressions of your unique style and a testament to your amazing taste. Complete your look and embrace the enchantment of natural elegance!