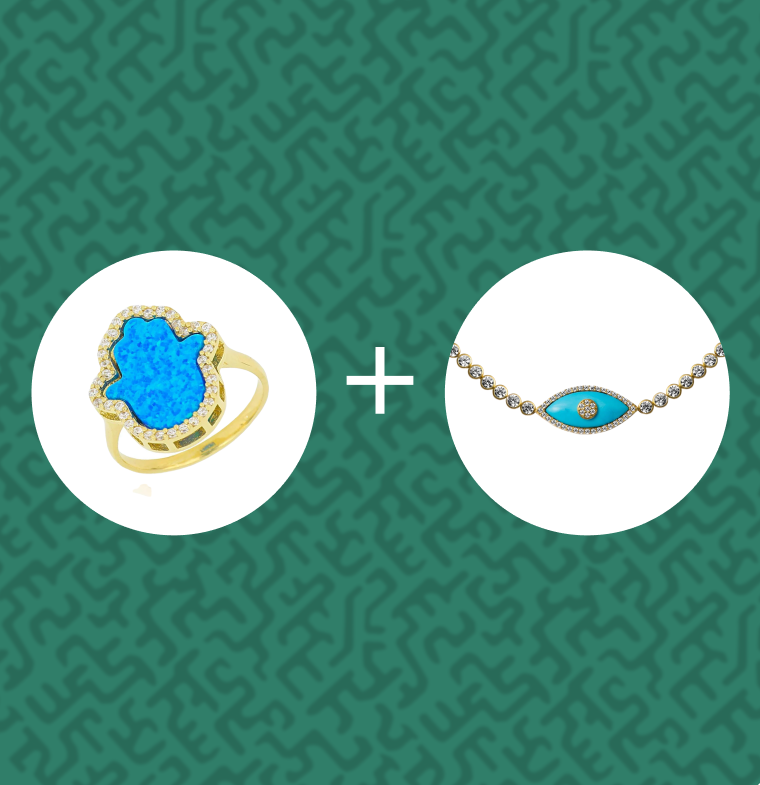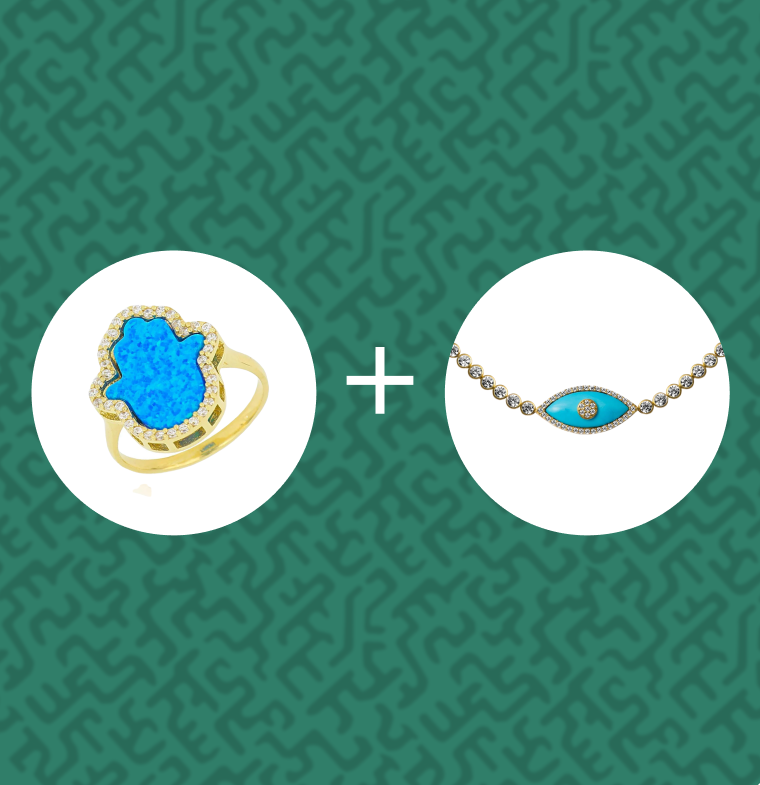 Turquoise Dreams - MUST HAVE 002
Introducing the "Turquoise Dreams - MUST HAVE 002" Bundle!
Elevate your style with our Turquoise Dreams collection, featuring two exquisite pieces that effortlessly capture the essence of timeless beauty and elegance. In this exclusive bundle, you'll discover:
Product One: SILVER 18K GOLD PLATED OPAL HAMSA RING
Experience the allure of our SILVER 18K GOLD PLATED OPAL HAMSA RING, a symbol of protection and style. This beautiful hamsa ring is meticulously handcrafted from 18k gold-plated silver, featuring a simulated blue opal and dazzling cz diamonds. Its unique design brings together the elegance of opal with the brilliance of cz diamonds, creating a stunning piece that reflects both artistry and luxury.
Product Two: "GEMMA" TURQUOISE STONE EYE CHOKER
Introducing the latest addition to the "Gemma" eye collection! These beautiful chokers are meticulously handcrafted from 925 silver, adorned with sparkling cz diamonds, and feature semi-precious stones like malachite, turquoise, and mother of pearl. Each stone adds its unique charm to these eye-catching chokers, making them a versatile and elegant choice for any occasion. With an adjustable length of 13-14.5 inches, these chokers offer a perfect fit and a touch of sophistication to your look.
Save 10%: With the Turquoise Dreams - MUST HAVE 001 Bundle, you not only elevate your style but also enjoy a generous 10% discount on these exceptional pieces, making them even more irresistible.
Enhance your style effortlessly with this unique bundle. These pieces are not just accessories; they are expressions of your unique style and a testament to your impeccable taste. Complete your look and embrace the enchantment of timeless elegance with Turquoise Dreams!